Urologic Trauma and Reconstruction
The Urologic Trauma and Reconstruction program specializes in treating patients who have voiding dysfunction symptoms, such as a slow weak stream, frequency, nocturia, urgency, or urinary retention, as a result of a urethral stricture or obstruction. Most urethral strictures develop secondary to blunt trauma, eg straddle injuries, while some urethral injuries are a result of penetrating trauma (eg. gun shot wounds or other obscure causes.)
Genital reconstruction is also done for patients who have suffered a traumatic genital injury or have genital skin loss due to infection or other causes.
Other areas of specialty of the Trauma and Reconstructive Program are management of traumatic injuries to the kidney, ureter, bladder, scrotum/testicles, and penis.
The male urethra is a conduit in continuity with the bladder, whose function is the passage of urine and semen. Anatomically it can be divided into posterior and anterior segments.
Posterior Urethral Injuries
Injuries to the posterior urethra are caused by blunt trauma, most commonly from motor vehicle accidents, falls or industrial crush injuries, and are associated with pelvic fractures. The mechanism of posterior urethral injury is a strong shearing force generated by the disruption of the pelvis, which pulls the prostatic urethra and its inferior pubic attachments in one direction while the membranous urethra is pulled in another. This results in rupture of the relatively unsupported membranous urethra, with displacement of the proximal urethral segment.
Anterior Urethral Injuries
Anterior urethral injuries are most frequently caused by blunt trauma. They usually occur after a straddle injury or a direct blow to the perineum. Other causes of anterior urethral stricture include idiopathic scarring, inflammation from infection, or instrumentation and penetrating injuries.
Treatments
Management of these injuries can be complex and depends on the individual case and the surgeon's expertise. The urethra must be thoroughly studied and an appropriate treatment plan developed. Treatments can include removing a portion of the diseased urethra or replacing a small segment of urethra with tissue from another area of the body. Factors that affect this decision include the exact length and location of the stricture.
Flexibility at the time of surgery is essential because intraoperative findings may dictate diverging from the original plan. For this reason, a thorough knowledge of the various reconstructive techniques is imperative.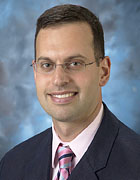 Nejd Alsikafi, MD
Subspecialty / Clinical Expertise:
Urologic Trauma and Reconstruction
Clinical/Research Interests:
Urologic Trauma and Reconstruction
Practice Locations:
Appointments: