Pediatric Radiology
The Section of Pediatric radiology provides comprehensive diagnostic imaging in pediatric patients. This includes Fluroscopic exams, Ultrasound, CT and MR of the body including extremities and joints. Diagnostic neuro imaging, angiography, interventional radiologic procedures and nuclear medicine studies in pediatric patients are also provided by our neuroradiology, interventional and nuclear medicine services.
MISSION
The mission of the section is to provide the highest quality, state of the art imaging to children in a compassionate manner while maintaining patient safety including limiting radiation dose to the absolute minimum necessary for diagnostic accuracy. When indicated , safe sedation for certain imaging procedures is also provided. We are committed to maintaining these services while providing ongoing educational and research opportunities for fellows, residents and medical students.
CLINICAL SERVICES
Loyola University Medical Center is a busy level 1 Trauma Center with a large, diverse volume of pediatric cases. This hospital within a hospital includes a 50-bed neonatal unit, 14-bed pediatric intensive care unit and 34-bed regular pediatric unit. A variety of pediatric patients are seen by general pediatricians and subspeciality pediatricians in Loyola University Medical center and Loyola Satellite Clinics.
The radiology department is well equipped with state-of-the-art imaging equipment including two 3Tesla and four 1.5T MRI units and one low field scanner for patients having difficulty with conventional scanners. There are 8 multi-detector CT scanners including two 64-slice scanners. Ultrasound for pediatric imaging is made possible through 12 state-of-the-art Ultrasound machines.
Our pediatric imaging services include ultrasound evaluation of hypertrophic pyloric stenosis, neck masses, congenital hip dysplasia, septic hips, appendicitis, intussusception and musculoskeletal problems. We also offer cardiac CT and MRI imaging for children. In fluoroscopy we offer voiding cystourethrogram, barium enemas and upper GI exams. In collaboration with speech pathologists we also offer video swallowing studies and videofluroscopy for velopharyngeal dysfunction.
EDUCATION
The division offers an active collaboration with pediatric services with participation in their multi-disciplinary conferences and tumor boards. There are radiology residents, pediatric residents and neonatal fellows along with medical students that spend time in the pediatric radiology section to avail the training and clinical experience in pediatric imaging.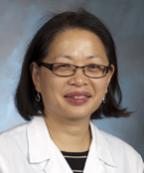 Jennifer Lim-Dunham M.D.
Professor
Radiology

Specialties